BLET Auxiliary
National Chaplain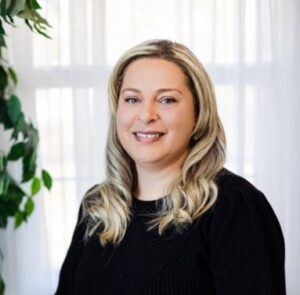 Hello, my name is Jessica Keene. My husband, Matt Keene hired out with a short line in Oregon in November of 2011 as a conductor. He just celebrated his 11th year anniversary as an engineer in 2022. He has been the local chairman in division number 416 since 2018 and was elected third vice general chairman of the UP western region general committee of adjustment in 2020.
In January of 2019, I became president and founding member of the local auxiliary Pacific Northwest number 503 here in the western part of Oregon. The bond with the families I work with throughout the nation has become irreplaceable and invaluable. Our family grew when we became a part of the auxiliary family and the support is like something I've never known before.
I strive to continue to grow and make our local a community of support that extends members to the family as well.
Matt and I have four children, Isabella, age 16, is already a firm Union supporter and understands why unions path the way for others. Izzie strives to become a medical examiner as an adult.
Matthias is 15 and loves trains. He is a part of the special needs community but that doesn't stop him from doing whatever he puts his mind to. His dream went from driving trains to doing nothing, to mowing lawns. The world is his oyster.
Grayson is 13 and is an amazing swimmer. This kid has the dedication, swimming every weeknight and also twice a week before school. He wants to be the next Michael Phillips. His backup plan is to be a surgeon. Charlie is 7, she wants to work with both ocean animals and large cats so a zoologist is her end goal. This girl will eat anything that comes from the sea.
As if having four kids as a railroader wife isn't enough, I currently care for my father-in-law, run two other non-profits, and a book club. I enjoy family beach trips and I am a huge foodie.
At the National Convention in the fall of 2022, I was nominated and elected National Auxiliary Chaplain. I look forward to serving as a national officer, supporting our auxiliary families across the nation.
Organizations that help us support our cause